Straight outta some haunted New England forest comes:
The Woodsman
Each year we wait to see what creation Ryk Maverick has cooking as he keeps the ring design a secret (even to us) until the reveal. The Woodsman is one of his most intricately carved creations yet with. That intricately carved vine is a separate piece that is painstakingly attached to the sterling silver ring.
Available in two versions:
Woodsman Standard ($1,000) Sterling silver ring with copper vine
Woodsman Special Edition ($1,550) Sterling silver ring with 18k gold vine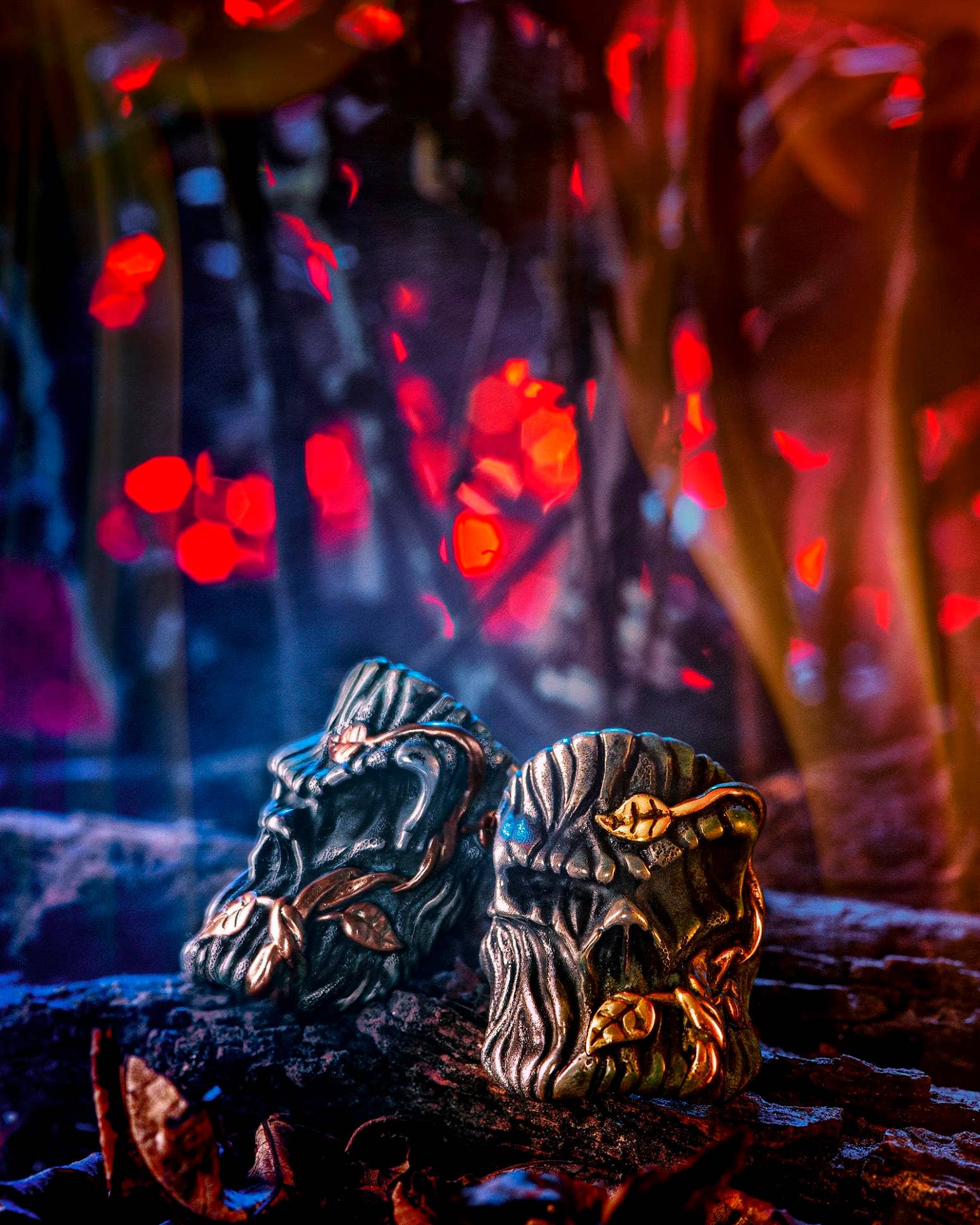 As always: we will take orders for the month of October only.Once the ordering period has stopped, the rings are produced and never to be made again! So, don't miss out on becoming part of a Starlingear tradition!
History of the Starlingear Halloween Rings
As more and more people find out about Starlingear, we have been asked what the deal is with the Starlingear Halloween Editions. As with many things art related, Ryk Maverick says it was kind of an inspirational fluke. It started in 2005…
Well, fast forward to 2006 and S-Gear fans started asking "What's the Halloween ring this year?" Ryk didn't originally have a series in mind (which is why there is no ring for 2006). Therefore, 2007 started the official series of annual Limited Edition Halloween rings.
2010 was the first year a limited Halloween bead was released in conjunction with the ring (with the Wolfman), and a bead version has followed each year since. Halloween is a special and unique time, and Ryk wanted to keep the pieces that way as well, so they are only produced in limited quantities. Basically, people can only put their orders in from 10/1 to 10/31 for that year's ring. After that the rings are produced, then the molds are destroyed and there are no more.
We asked Ryk how he came up with the subjects and what the future holds. He said when things started he knew that he had to do the "classics" first (Mummy, Drac, etc) or people would freak out. After completing those he was free to expand into other, less defined, Halloween scary subjects.