Elmer Roush: Pack Axe - Hickory
This hand forged piece from Elmer Roush features a hand forged head patterned after 18th century camp/pack axes. The design features a generally straight handle with a head featuring a broader pol and a built up neck that broadens to a fairly large bit with an overall symmetrical profile. The head has a mild steel body with a high carbon edge forged into it for maximum strength at the edge. The head profile is a superb all-around profile with large forward cutting edge, with enough space behind the beard to help with finer work. The head features the natural forged texture and patina finish from its creation for an almost 'historic' look, with Elmer's makers marks forged in the head. This one has a hickory handle with a linseed oil and beeswax finish for both looks and to protect the wood. Comes with a spec card written by Elmer.
Note: Each axe is hand forged and hand-hung. These are hung in one climate, shipped to another climate, and then shipped to you. It is 100% natural for some wiggle in the head to be present after changing climates. If it goes to an area more humid than Arizona, it might firm up all on its own, or else a small amount of effort by the end user can get things locked in tight as can be. It is expected for the end-user to have to maintain an axe and handle, so don't worry - axe users have been managing this just fine for a few (actually, a lot more than a few) thousand years, so you can too!
About Elmer Roush: Elmer Roush has been crafting hand made, hand forged tools for near on half a century. He always is honing his craft whilst creating works of functional art. From 8th century Viking weapons of war, to Native American style weapons and modern-style axes and tools, Elmer creates stunning pieces expertly crafted and ready to be used for real work. Elmer has been a full time blacksmith as well as instructor to generations of tool makers and 'smiths all over the globe like Ryan Johnson of RMJ Tactical, as well as designing tools and gear for some of the largest edged weapon makers on the planet. If you want real deal, hand forged, custom made tried and true tools made right here in the USA, look no further than Elmer Roush.
Overall Length: 14 in
Edge Length: 3.375 in
Weight: 1 lbs 6.5 oz
Blade Material: 1018 with forge welded 1095 edge
Making things like they used to. Not forgetting where we came from and how it was done. Not a bad mission to have, we gotta say. Well, that is exactly what Elmer Roush has strived for and achieved during his career as a blacksmith and tool maker. From teaching generations of students the skills of the 'smithing trade, to being a reference for historical tools and procedures - we'd say mission accomplished. Each one of Elmer's pieces is like stepping back in time, and no wonder since he makes each hammer, 'hawk and tool just like they did centuries past. If you want to have a fistful of craftsmanship and history, you have come to the right place.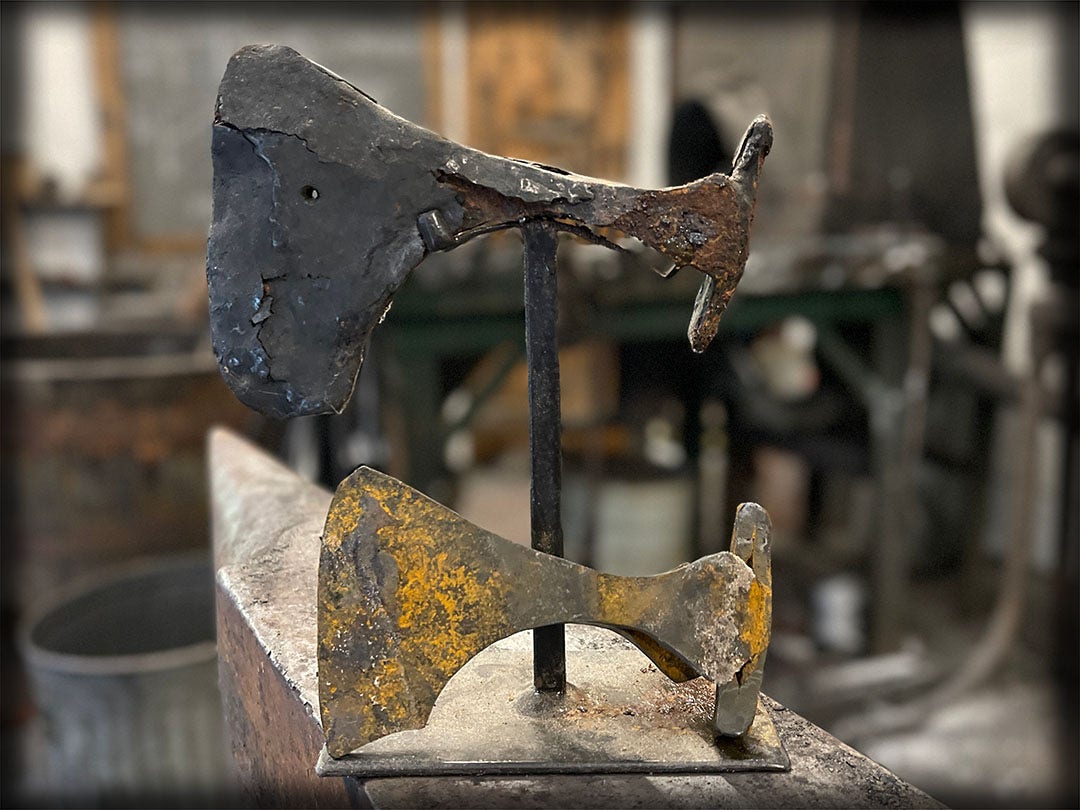 9th century Rus Viking axe head (top) and in-progress head from Elmer
Roush-Built
Tools of the trade don't make the maker, but they sure are telling. When you see that someone is not only making incredible pieces - but making them with tools that they themselves created - you start to understand the depth of the knowledge and skill at work. Elmer has made tools for 'smiths all over the globe, and his shop is full of his own work. Making them how it used to be made, with the tools and methods they would have used over a thousand years ago.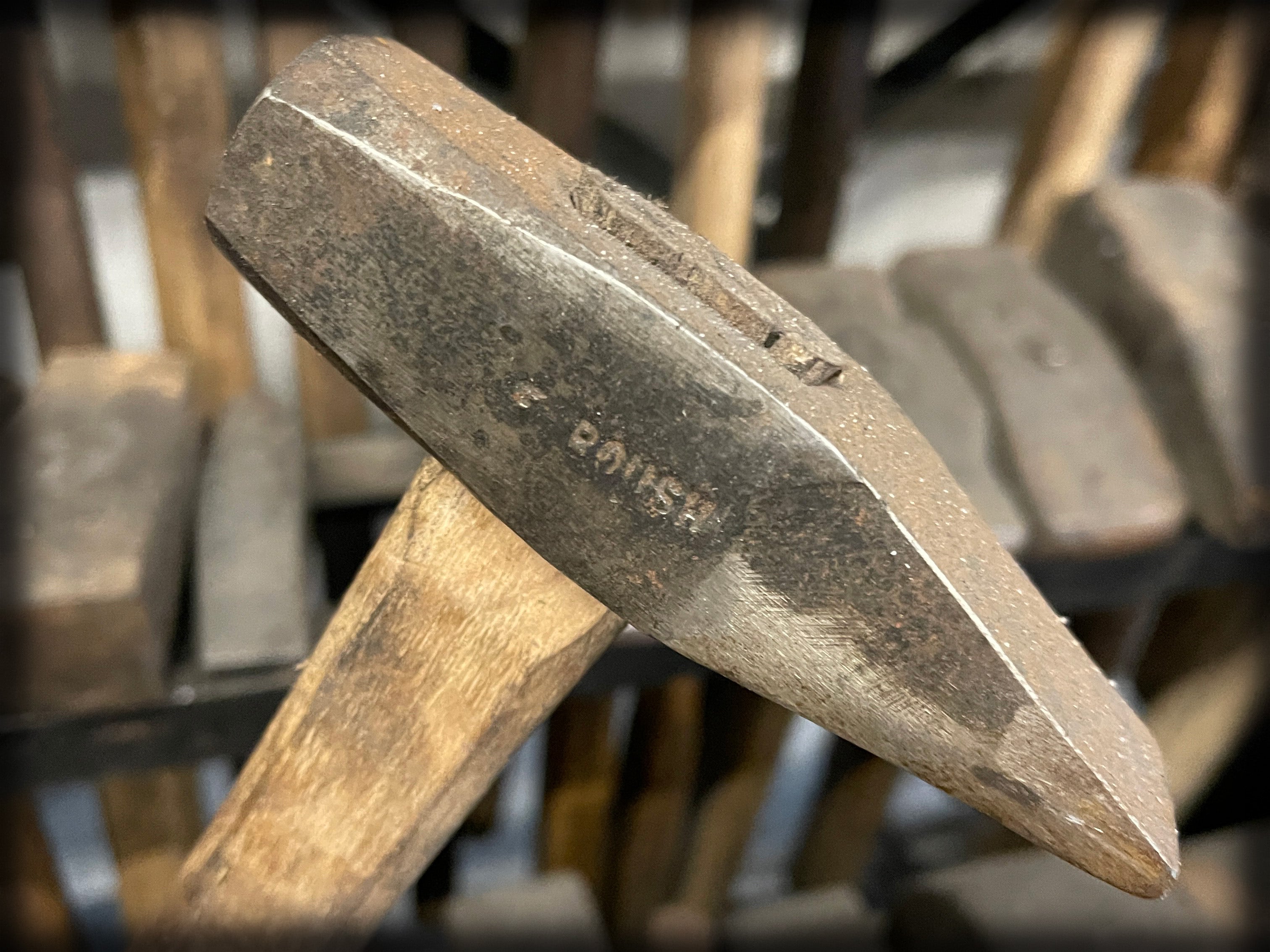 One of the tool's Elmer uses to make his work - also made by him.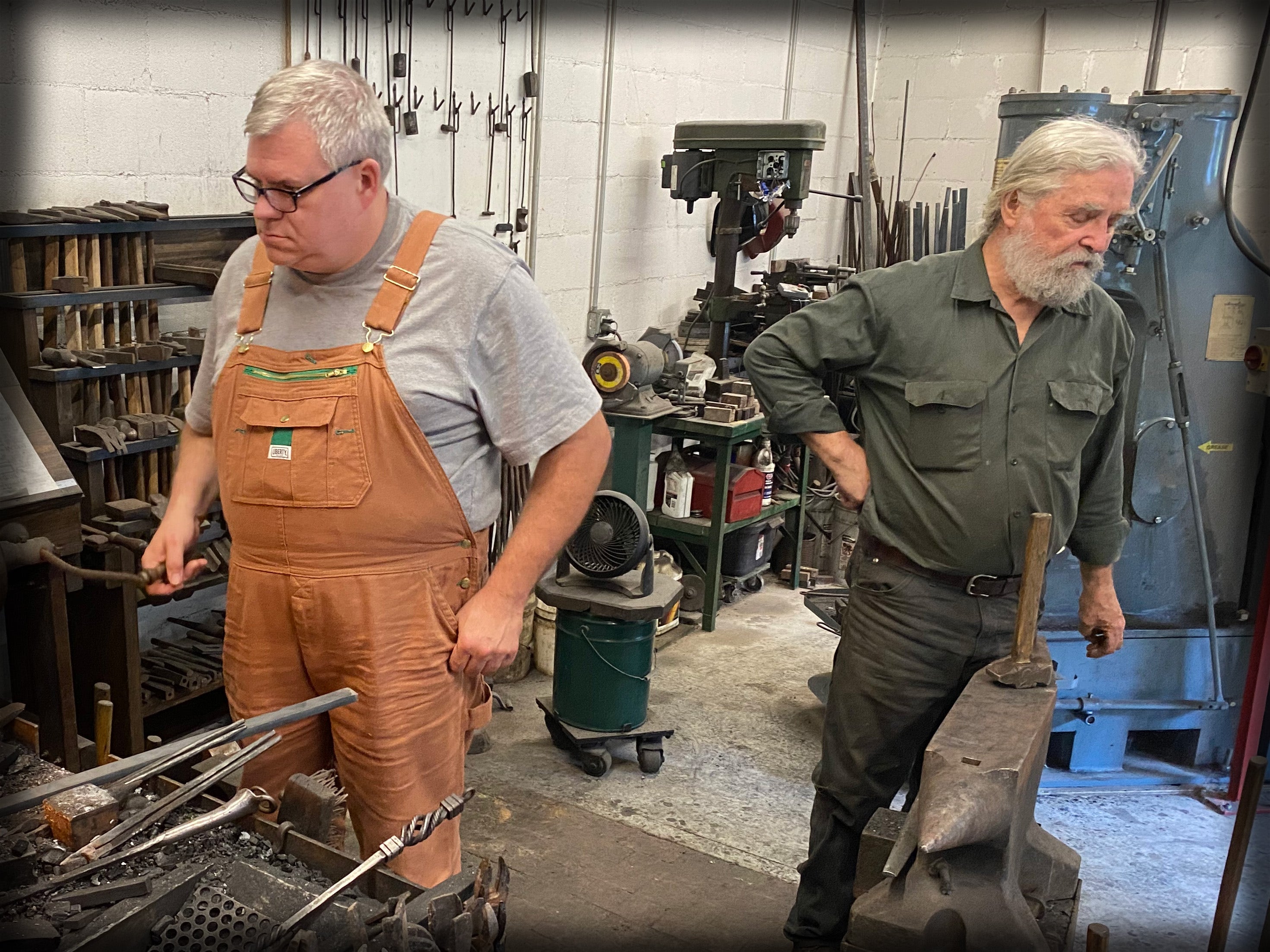 Ryan Johnson and Elmer Roush at Elmer's North Carolina shop.
Forging More than Steel
Elmer has traveled across the globe, passing down the 'smithing trade. His expertise and skill at historical and traditional blacksmithing is respected by those in the industry, and has found students in other countries (Australia, Britain, Canada, Norway to name some), within specialized military groups, and with other makers you just might have heard of. Ryan Johnson of RMJ Tactical has been friends with and has learned from Elmer since Ryan was a kid, a friendship still shared to this day.
Elmer Roush + Monkey Edge
So where do we come in? Well, we had known of Elmer for years from our own involvement in the industry, and from our pals Ryan Johnson and Rob Orlando. At some point, the dots got connected and we met up with Elmer at a show - and the second we saw his work, we were IN! Being able to put our efforts into letting more folks know about Elmer (though he has no shortage of fans, that's for sure), his work and his mission of spreading the knowledge and ways of the past, is about as great of a goal we could ever hope for. Humble, knowledgeable, and absolutely a master of what he does - what more could you ask for in a partner?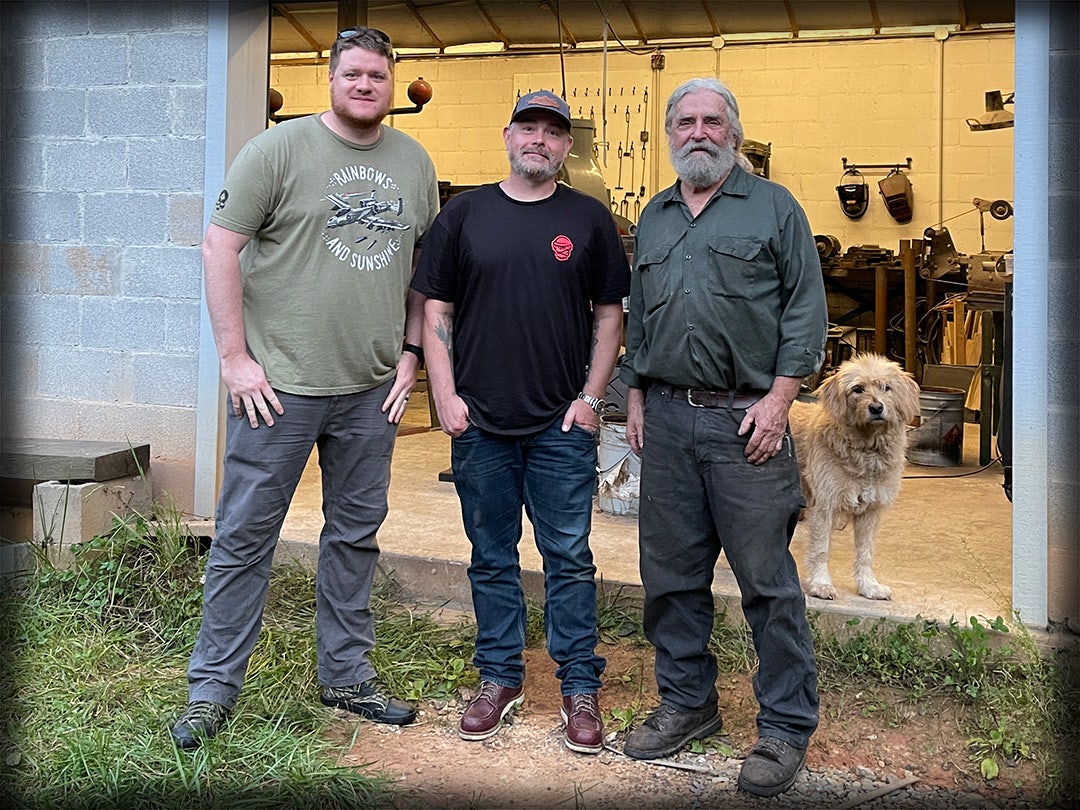 Big Tommy, Brady, Elmer, and Storm at Elmer's shop.